IMPORTANT:

The CiragoLink remote access service is no longer in service. All other functions in the NUS2000, including local access, are still operational.

Please contact Tech Support at (408) 331-8845 if you have any questions.
Turn your USB storage device into a personal cloud storage
The Cirago NUS2000 turns any USB mass storage device into a networked attached storage. Any computer on the network can access files on USB devices connected to the NUS2000, making sharing documents, music and other files fast and easy. Additional features include the iTunes, web, media and LPR print servers, and a BitTorrent client. The NUS2000 is networked storage made simple for everyday use in the home or small office.
Features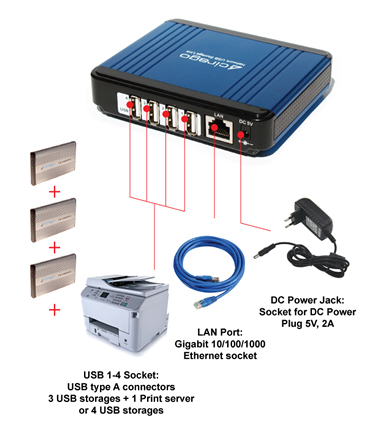 Up to 8TB of storage connected to your network
Access from computers and smartphones from your network
Read/Write support for NTFS, FAT32, and EXT2
Download directly to connected USB devices using the built-in BitTorrent client
Share music libraries using the built-in iTunes server
Stream photos, music and movies to compatible entertainment devices over your network
Access printer over a network using the built-in USB print server
Supports multiple user accounts
Small size and low power consumption
Compatibility