Expand your screen space
The Cirago UDA1100 USB to DVI, HDMI and VGA Display Adapter is a simple solution for setting up additional monitor, LCD, or projector from a USB port on your desktop or laptop, without adding a video card. It outputs to most popular interfaces — DVI, HDMI, or VGA, and enables clone, extended, or rotation mode to satisfy different display needs.
Its outstanding built-in capabilities allow up to four additional displays on a single Mac computer (up to six on a PC) — one UDA1100 per display connection. With increased desktop area, it makes viewing extensive spreadsheets, reading lengthy documents, or working with multiple applications fast and easy.
The adapter is light and compact with onboard headphone and microphone jacks. It offers convenience and enables higher productivity in the office, at home, or on the road.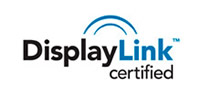 Headphone
+
Microphone
jacks
Features
Up to 4 simultaneous displays on a Mac (up to 6 on a PC)
One UDA1100 per display connection
Supports video resolutions up to 1920 x 1080 in 32-bit color
Desktop display modes: clone, extended, and rotation
3.5mm jacks for stereo audio output and microphone input
Plug-n-Play and Hot-Swappable
DisplayLink Certified (DisplayLink chipset DL165)
Compatibility
Windows 10, 8.1, 8, 7 32/64-bit, Vista 32/64-bit, XP 32-bit, 2000, Mac OS X 10.4 and higher
PRESS RELEASE
Cirago Unveils New Mac-Friendly USB to DVI/HDMI/VGA Display Adapter
Add up to Four Additional Monitors to a Single Computer for Increased Screen Space without Adding Video Cards; UDA1100 Supports Full 1080P for HD Viewing
Cirago International, a leading manufacturer of multimedia centers, storage and wireless solutions, today unveiled its new UDA1100 USB to DVI/HDMI and VGA Display adapter that makes it quick and easy to add additional monitors, or connect LCDs or projectors to any desktop, laptop or notebook computer without adding a video card.
"This latest addition to our Display Adapter line is specifically designed to meet the needs of Mac users with the built-in digital (DVI/HDMI), analog (VGA),and audio support required to add valuable screen space or stream HD movies straight from your Mac to any HDTV with ease using a single link," said Tenny Sin, Executive Vice President at Cirago. "It's also much more affordable than adding new video cards to run your system."
The Mac-friendly device comes with a DVI to VGA adapter included, and on-onboard 3.5mm jacks provide for stereo audio output and microphone input to connect up to four additional displays on a single Mac computer (up to six on a PC) — one UDA1100 per display connection. Compatible with Mac OS X 10.4 and higher, the UDA1100is ideal for video gaming, as well as music and video production editing and graphic design work. A DVI to HDMI adapter is also included with each device, along with the USB 2.0 to Mini-USB cable required to connect the device to the computer.
At just 0.10 pounds, the lightweight and hot-swappable device is also portable and convenient for business travelers who must frequently connect with VGA-based projectors commonly found in hotels and conference centers; in addition, most school systems in the U.S. also run VGA-based technology.
Based on Cirago's popular UDA2000 USB2.0 to HDMI Adapter that iLounge.com proclaimed "almost too good to be true," and BootCamp.com called "a nifty solution," the USB-powered,high-definition compatible UDA1100 supports clone, extended or rotation display modes, enabling users to: push the same image to multiple monitors, expand desktop screen space to gain extra room for viewing large documents or working with multiple applications simultaneously, or tile a single large image across multiple adjacent monitors for a panoramic view.
The UDA1100 also allows both home and business users to connect older VGA monitors to newer PC systems to get more use out of older equipment and help keep electronic waste out of landfills.